By
PLS
in
Words
It was so cold.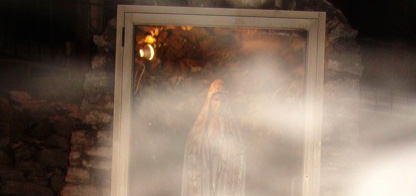 I was raised in the Catholic church, went to catechism, got my first communion, and left as soon as I fucking could. It was never for me, and this was reinforced by my grandmother's funeral. We should have been celebrating her life, and were it not for my cousins singing and playing live in the church, the whole dour affair would have been even more inappropriate than it was, what with the creepy guest priest pimping his own sister's death much earlier in the year by handing out little prayer cards with her AND his face on it, along with prayer cards celebrating his own anniversary as a priest. Good for you, you insensitive prick.
That doesn't mean I don't appreciate the art created in the name of the big-C Church. Two places in particular I liked. One was a tiny roadside chapel in the boonies of Ohio with three statues in front of a beautiful stained glass window. Inside, the hundred of candles in front of the statues meant it was always warm inside, no matter what time of year it was. When you went behind the building in the winter, the light flickered like a kaleidoscope on the snow. Once, out of sheer desperation, I tried saying a novena there that others had been leaving, and got a note ostensibly left by the caretaker to stop leaving the photocopies of the novena specified. God hates chain letters, too.
The other was a big scary church in the boonies of Pennsylvania, on a hill glowering over a cemetery. There was a soot-stained bridge that led to the hills across from it, and next to the road under the bridge there was a tiny little shrine to the BVM, encased in plexiglass. Worship, but don't worship too close. Why trust a god who doesn't trust you?
Instead, I prefer to watch the world's increasingly poisonous daily devotions to a god they've masochistically twisted into something awful from a great distance.